http://www.bbc.co.uk/news/uk-england-manchester-23291360
Always young promising 'nice guys' getting randomly killed by sceffy schizoids whose voices are telling them to kill......
Is this a demonic army waging war on the good guys?
Kieran Raiswell death: 'Sniggering' killer jailed



12 July 2013


 

From the section

Manchester



[size]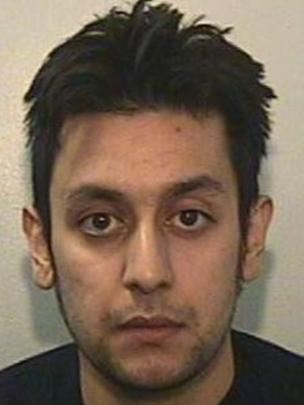 Image caption
Witnesses reported Imran Akhtar Hussain "sniggered" as he fled
A man who stabbed a Manchester teenager to death in a random attack in the street "to see what it's like to kill someone" has been jailed for murder.
Kieran Crump Raiswell, 18, from Chorlton, was stabbed four times in Whalley Range on 16 January.
Imran Akhtar Hussain, 27, had denied murder but a plea of manslaughter on the grounds of diminished responsibility was dismissed.
At Manchester Crown Court he was given life with a minimum tariff of 23 years.
The jury earlier dismissed his claims that voices in his head told him to kill following evidence that it was "highly likely" he is suffering from paranoid schizophrenia.
Mr Justice Baker acknowledged the defendant was impaired, but not to a significant degree.
The jury agreed with the prosecution that at the time he "simply wanted to see what it's like to kill someone".
Mr Raiswell, who was on a gap year ahead of studying history at Sheffield Hallam University, was attacked without warning by Hussain - who stabbed him repeatedly in the chest before running off.
Witnesses reported the killer, who came from Bracknell in Berkshire, "sniggered" as he fled.
'Deadly intent'
The killing was the second of two street attacks committed by Hussain on strangers within two weeks in January after he punched a man in the face in Nottingham.
An investigation by the Independent Police Complaints Commission into Nottinghamshire Police's response to the first attack is ongoing.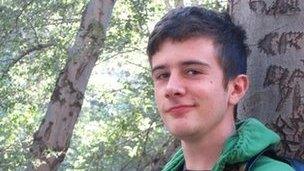 Image caption
Kieran Crump Raiswell was stabbed without warning in the street
Mr Justice Baker, sentencing, described the Nottingham attack as a "trial run".
The judge told Hussain: "I'm satisfied that having escaped detection for that attack (in Nottingham) you were emboldened to undertake another one, this time with deadly intent".
In a statement, Kieran's parents, Roland Crump and Christine Raiswell, said: "At this time, it is important to remember Kieran as an outstanding young man about to embark on his adult life and we treasure the memory of our fantastic eldest son. We will always remember him.
"Kieran was walking into town on that Wednesday afternoon in January when Imran Hussain picked out our son and subjected him to a vicious attack that gave him no chance of defending himself.
"We believe this senseless murder has been justly punished."
[/size]